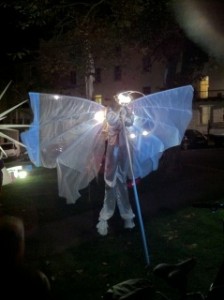 Life in Hastings and St Leonards on Sea (St Leos, as the Grumpy Vegan likes to call it) is an annual calendar of events rich in diversity and all the more valued in appreciation because they're organised by the community and largely by volunteers. This is an astonishing fact given that there is not a particularly large population in residence (about 87,000).
The visual arts festival, Coastal Currents, takes place in September. Coastal Currents provides a "showcase for the talents of the local arts community as well as profiling artists from outside the UK." The organisers go on to explain
Hastings is a town brimming with artists, writers, poets, musicians and performers. Due to favourable property prices, a spectacular coastal location and a stimulating and creative environment; a vast number of studios and workshops have steadily evolved.
It's impossible for the Grumpy Vegan to get to every event. Thankfully, some events are grouped together so that they occur in the course of a day or an evening.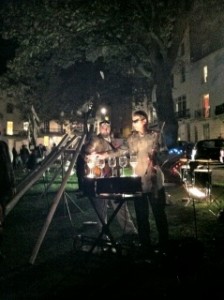 One such included The Lost Plot by Radiator Arts, which is a
luminous white ghost garden only accessible after dark. Visitors are taken on a walk through the garden where they will enter into the imaginary world of the ghost gardeners. Radiator Arts will transform the grounds of Wellington Square into a garden of the imagination and memory with projections, soundscapes and illuminations. The audience will find themselves lost in this mystical plot beguiled and enchanted by the scenery, film, performance and sensor activated soundscapes.
The Grumpy Vegan isn't easily beguiled or enchanted but he was this time. Wellington Square was transformed into a dream-like, lunar-white magical garden with otherworldly music, displays, settings and ghostly figures walking among us.