The folks at the Humane Research Council are a smart lot and provide an invaluable service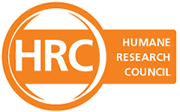 to the animal rights movement, primarily in the US but also throughout the rest of the world, with their unique programs.
One of these projects, Humane Trends, is so special that the Grumpy Vegan decided it deserved to be Website of the Week.
Humane Trends, a barometer of the status of animal protection in the United States, brings together a
collection of 25 diverse indicators to assess the status and progress of animal well-being, providing a comprehensive view of animal use and abuse in the United States to help inform animal advocates as well as policymakers and the public. Although Humane Trends compiles the most accurate data currently available for each indicator, the overall study is limited by the lack of reliable data regarding animal protection issues. Humane Trends serves to underscore the need for further research and more accurate information about our treatment of animals.
It's all fascinating stuff and an invaluable resource. Did you know, for example, 91 per cent of US adults say that protecting companion animals is important? No, nor did the Grumpy Vegan. And he should've.