I wrote the narrative that goes with the art by Sue Coe about Topsy, "An Elephant Never Forgets," which is published in Blab! Vol. 18, the graphics novel annual featuring cutting-edge comics, illustration and design.
I edited two anthologies of articles that were originally published in The Animals' Agenda. Both books are published by the redoubtable Lantern Books.
The first is Speaking Out for Animals. In the introduction, Jane Goodall writes,
Kim W. Stallwood, in gathering together stories of determination and courage, stories emphasizing the power of individual action, has produced a book that will have an important impact on those who read it. The voices of the animal advocates speak from every page: some quietly, some with resonant shouts, together encouraging all who care about animal suffering to work even harder to effect change.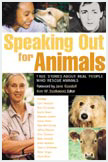 I recommend this anthology as a relatively easy read and a way to learn about animal issues through these heroic individuals.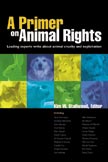 The second anthology is A Primer on Animal Rights. The book contains work by some of the leading authorities on animal protection issues, including: Jim Mason, Marc Bekoff, Mike Markarian, Betsy Swart, Norm Phelps, Wayne Pacelle, Pat Derby, Gene Bauston, Karen Davis, Richard Schwartz, Don Barnes, and many others. All articles are up-to-date and full of important facts. This anthology brings together the best of the investigative reporting articles that I published in The Animals' Agenda.
My paper, "Utopian Visions and Pragmatic Politics: Challenging the Foundations of Speciesism and Misothery," was published in Animal Rights The Changing Debate and the article, "The Animal Rights Movement Must Be Politically Pragmatic" from The Animals' Agenda was included in the 1996 edition of Animal Rights Opposing Viewpoints.
Presently, I'm completing my first book, Animal Dharma, which explores what it means to care deeply about animals and discovers how we can live peacefully with ourselves and others by proposing four key values: truth, compassion, non-violence and interbeing, the interrelatedness of all.
Also, I'm researching my second book, The Animal Rights Challenge, which examines the animal rights movement, assesses society's response and proposes a strategy framing moral and legal rights for animals as part of a progressive agenda for social change.