The Hastings Vegan Dining Club recently enjoyed a treat. We usually meet in each other's homes or in locations which can accommodate our rapidly growing numbers of now more than 20. Further, we prepare, cook and serve ourselves all our vegan meals.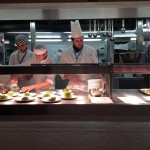 But not this time! Our treat was a special dinner of five courses prepared for us by the staff and students of the Hospitality and Catering Department at the Sussex Coast College in Hastings. The college has its own kitchens and restaurants which is open to the public.
One of our members, Trevor Goodwin who, with his wife Penny run the vegan Bay Tree House Hotel, contacted the college and agreed to prepare for us a special vegan dinner. Our meal would form part of the curriculum for the first year students.
The restaurant accommodates 50, of which 25 seats were allocated to the club. Normally we don't advertise where we meet because we gather in our own homes. This time, we thought, we could not only fill the 25 seats reserved for us, but also sell out the other 25. All but four of the 50 places were reserved by us, our friends and vegans from Sevenoaks and Eastbourne.
The fee per person was £18.95, which included hors d'oeuvres and a cocktail on arrival. The menu consisted of
Glazed Stuffed Marrow, Caramelized Onion & Garlic

Butternut Squash Risotto, Thyme Oil, Sweet Baby Roasted Tomatoes.

Asparagus Salad, Artichokes & Lemon Dressing

Butternut Squash Risotto, Thyme Oil, Sweet Baby Roasted Tomatoes

Chilli Spiced Beans, Pilau Rice & Flat Breads

Lasagne of Leeks, Ratatouille, Garlic & Herb Crust

Sticky Toffee Pudding, Fudge Sauce

Banoffee Pie, Chocolate Sauce

Chocolate Bread Pudding, Rum Roasted Fig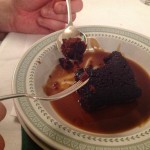 Everyone enjoyed the dinner. We were thrilled to be a part of the opportunity for the students in their first year to learn how to cook delicious vegan dishes. We hope very much that the college will serve us a special vegan dinner each term. Of course, everyone has different personal tastes in how they like their food. Some thought the tastes and seasonings were about right. Others thought they could be improved. Instead of having to choose one dish from three, some wanted, instead, to be served a plate with small samples of all three, or have them served individually like a tapas.