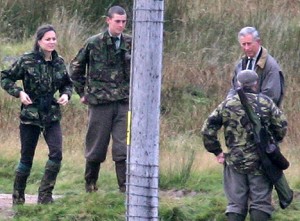 No, before animal activists on the Web get their garlic in a bunch. No, the British Royal Family have not gone vegan. Or banned animals with circuses.
But Windsor Castle cooked up a vegan banquet, as sniffily reported in The Daily Torygraph.
"Luckily there's none of the dreaded nut roast," it sneered.
Hands up, vegans, who ate nut roast in the last month? No one? That's what I thought.
But still the tired old cliched stereotypes of pathetic reporting are pulled from the feeble brains on the reactionary right. It seems the vegan banquet was cooked only because too many brands of religion with differing dietary requirements were all gathered together under one roof at one time.
Catering for nine different faith groups puts the usual dinner-party dilemma of what to give the vegetarian into perspective. The Muslims need Halal meat while the Jewish contingent have to keep kosher. The Daoists avoid red meat, while Buddhists and Sikhs are generally vegetarian. Hindus don't eat beef or onions. Sadly the Jains couldn't come, but at least root vegetables can stay on the menu.
So, cook vegan! Then, everyone can eat it. And no one gets hurt. Or offended. Well, almost. The Torygraph is, of course, easily offended. Anyway, being vegan works for the Grumpy Vegan. Why can't it work for everyone all the time?
But spare a thought for Phil the Greek. No meat, eggs and dairy means, of course, no alcohol. (Not chez moi, the Grumpy Vegan adds).
There'll be no alcohol, of course, just fruit juice and tap water, although the Duke of Edinburgh's favourite Old Windsor Gold Ale will be on hand in case the Royal consort fancies a tipple. As Colwell says, "It's his house. He can drink what he wants."
Yes, of course, Phil the Greek can have whatever he wants. The Royals generally do. But even that might be changing. League Against Cruel Sports commented recently.
The rumours have it that the press team have been told that there must be no more pictures of royals engaging in bloodsports!
It's called "Bad press." Apparently. But don't tell PETA.  They believe there's no such thing.
So, Phil the Greek has been "asked to give up shooting at Sandringham, Charles is being asked to give up deer stalking at Balmoral and Harry is being told that he must not go out with a gun."
The Grumpy Vegan doesn't mind people having guns. Just wish they use them on themselves. Starting with the Royals. And leave the rest of us who want peace to be in peace. In a Republic, to boot. With no silly weddings getting in the way of our emaciated and boring, sad and pathetic vegan lives. Let the dreary vegan life live on!
(For more on the Royals and hunting, including the soon-to-be Mrs Windsor, read this.)