This is the first in an occasional series of posts featuring places where the Grumpy Vegan recently ate during an eight-day trip which was completed entirely by train starting in London and included Paris, Madrid and Sevilla. Tweets were published during this trip and sometimes with photographs; however, here's a bit more about one of the most important aspects of travelling: Eating.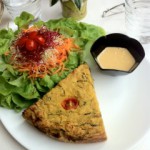 Lunch was taken at the Loving Hut on the Boulevard Beaumarchais in Paris on a cold and wet weekday. We were there waiting for the doors to open at noon and by 1pm the restaurant was full. Clearly, it's a popular restaurant. The Grumpy Vegan is aware that the Loving Hut is 'inspired by the Supreme Master Ching Hai' but, frankly, the food takes priority. It's just great to see an international vegan restaurant chain!
Our appetiser was an order of Summer Rolls, which is a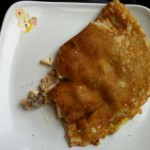 favourite with the Grumpy Vegan's travelling companion but not himself, who saved, er, himself for the entrees. Our selection was the Happy Veggie Quiche and Mushroom Crepes. The quiche was impressively firm. The crepes were equally impressive. Sweet pancakes with fruit are a Sunday morning treat Chez La Grumpy Vegan; however, savour crepes are truly a vegan rarity, which is why the dish was ordered and did not disappoint.
The two desserts were picked were a Pear Cake and a Cheesecake.
The quality of the dishes overall was very good. The entrees, however, were too timid in flavour for our tastes. The flavour was mild and for our palates lacking. The desserts were excellent, however, as were, apparently, the Summer Rolls.
The cost of the meal was £42 (about $66).
A visit to the Loving Hut in Paris is certainly a treat but would not be a regular haunt if it was where the Grumpy Vegan lived.
Certainly, the Loving Hut in Paris could be a restaurant which the Hastings Vegan Dining Club should consider if we ever wanted to treat ourselves!