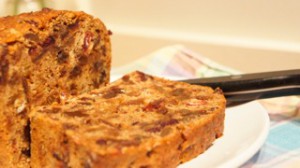 Christmas and the New Year are the perfect time to bake vegan goodies. Actually, any time of the year is the best time of the year to bake vegan goodies but sometimes we need an excuse.
So, what better thing to do during is there other than to bake vegan goodies? Which isn't mean to say that the Grumpy Vegan didn't work during over Christmas and the New Year. Because he did. That damn book isn't going to write itself, is it?
Published just before Christmas is a new vegan baking cook book by the Hastings-based 1066 Cake Stand. During the orgy of holiday vegan baking the Grumpy Vegan tried two recipes from 1066 Cake Stand's Compendium of Cakes by Shelley Feldman and Kevin Young. The first was the Everything-Less Fruit Cake. It is a very interesting recipe using cooked dates and mixed dried fruit as its foundation. In contrast with a traditional fruit cake recipe which can sometimes by on the dry side, the verdict on this cake was that it was very moist and fruity. Indeed, an excellent, recommended recipe!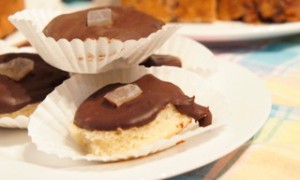 Victoria Sponges are a challenge to vegans. The Grumpy Vegan can make a damn good chocolate cake with chocolate gnash icing. But a Victoria Sponge whose primary ingredient is eggs, well…… that's a challenge.
So, 1066 Cake Stand's recipe for a Victoria Sponge had to be tried. It didn't quite turn out how I expected it to. There is always a temptation to fiddle with the recipe, which the Grumpy Vegan admits to. So, further opportunities will be taken to bake this cake again.
Nevertheless, this recipe produced a sponge that was really rather good. It had a lovely vanilla flavour and had a texture somewhat similar to a sponge. But it fell apart on the cooling rack. Again, this may have been the fault of the Grumpy Chef. Nevertheless, no good food goes to waste (just to the waist line) and the decision was made to cut the sponge with a small, round cutter. Thus, the cake was transformed into individual sponges with the aforementioned chocolate gnash icing. Here is the photo to dribble over. Marks out of 10? Nine!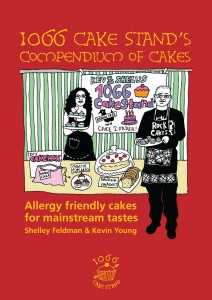 Here's the cover the new 1066 Cake Stand's Compendium of Cakes cook book. Highly recommended. Give it a go. Order it today from here!
With 1066 Cake Stand joining with other vegan local businesses, Hastings is fast becoming the centre of the vegan universe. Well, yes, bit of a stretch. But what's so wrong with a bit of vegan pride?
Here are two other Hastings-based vegan enterprises: the Hastings Brewery and Bay Tree House bed and breakfast.
And let's not forget the Hastings Vegan Dining Club which will be celebrating its fourth anniversary this year!