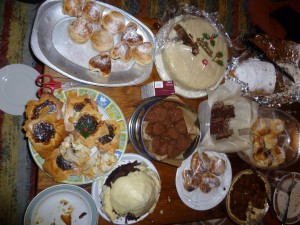 The Hastings Vegan Dining Club met just before Christmas for our, er, Christmas Do. The festive feast of 'Bring A Dish' goodness was the final Vegan Dining Club of 2011. Here's what we had
Savouries, starters & mains: Tomato, Cucumber & Basil salad; Rice, Lentil and roast aubergine salad; Alfalfa sprouts; roasties; coleslaw; falafel & rice balls; lentil lasagne; vegetable strudel; baba ganoush; tofu & walnut dip; hummous; chestnut pie; tempeh.
Deserts: pastry filled with chocolate ganache and pink custard; Xmas cake; choc & banana cake; mince pies; stollen; choc cookies; choc crispy squares; toffee pecan pie.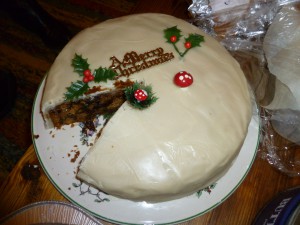 Drinks: Mulled wine; HSB–Hastings Brewery locally brewed vegan beer.
Sadly, the Grumpy Vegan couldn't make this meal. He is, therefore, grateful to the other ('nice') Kim for making notes and taking photos!