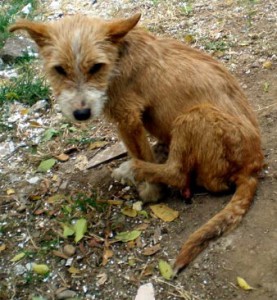 Romania Animal Rescue deserves to be recognised as Website of the Week for their unstinting work against difficult odds. RAR, like other organisations based in the USA, UK and other developed countries, is dedicating to helping animals in a country other than the one they're based in.
Of course, animal cruelty and suffering is everywhere and no country is exempt from our inhumanity toward animals. And, of course, groups active in the countries in which they're based also do sterling work. However, I admire particularly those who seek to overcome boundaries of significant distance and learn how to navigate around cultural and economic challenges to making a difference to animals who are at risk.
Recently, RAR wrote about Toto, who was
hit by a car and is paralyzed. In the area where he lives, people throw stones at him and want him dead. He knows he is not loved. However, a man with a kind heart feeds him and made him a little kennel. I put one of Anu Raatikainen's blankets in his kennel. This brave innocent dog… walks using his front legs and carefully lifting his hind legs. He is active and eats and he enjoys every kind gesture every kind word. He needs: Treatment and a place where mean people do not have access. Ideally, someone to love him and give him a home. Romania Animal Rescue was contacted for help for Toto. A home has been found in Oregon for this little fellow, but we need help getting him there please! Thanks to support from our Facebook friends, he will be transported from Targoviste to AlmaVet in Bucharest for treatment by the RAR vets, will have his vaccines, possible surgery, deparasiting and deworming, and then will go into foster care awaiting his travel to the USA for adoption.
To learn more about how you can help Toto and other dogs and cats like him who need our help, please visit Romania Animal Rescue.