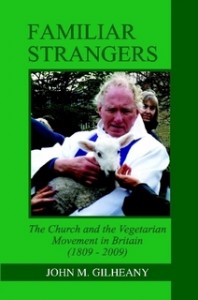 Lulu, the online self-publishing Web site, is phenomenal. My introduction to Lulu was when I wanted to produce privately a book of the chapters I had been writing for my forthcoming book, Animal Dharma. There was a bit of a learning curve in figuring how best to format the text but after some experimentation and making mistakes, well, it was really quite easy. Then, within a day or so, your book is delivered to your home in days!
On Thursday, January 27 I placed an order for a book. On Saturday, January 29 it was delivered in the mail to my home. That's amazing! The cost? As much as I would be prepared to pay for it in a bookshop.
And the book?
Familiar Strangers: The Church and the Vegetarian Movement in Britain 1809-2009 by John M. Gilheany, which I look forward to reading, as I love studying the history of the UK and US animal welfare/rights movement.